Editor's Bookshelf
XBRL for Dummies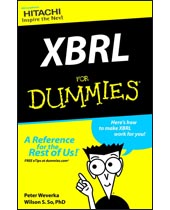 With the recent mandate by the Securities and Exchange Commission regarding the application of XBRL, knowing how to use this business reporting language is now a primary business imperative.
More Bookshelf > >


Enhanced Finance Controls
Therese Tucker
CEO
BlackLine Systems





BlackLine has been listed by Gartner as a 'Best-of-Breed' provider for Enhanced Finance Controls and Automation (EFCA) Software – a renamed category formerly called Close/Reconciliation Management by the global technology industry research leader.

Are You Still Auditing in Excel?
Dan Zitting
VP Product Management and Design
ACL Services

Whether an organization has invested in audit and compliance technology or not, auditors and compliance professionals often end up working in Excel, even though it does not offer optimal functionality for the type of work they do.

Roundtable


The need to track the actions of users inside a company has greatly increased the amount of data that entities must collect to ensure a complete view of all activity.


Jim Pflaging
President and CEO
SenSage
More Roundtables > >