Editor's Bookshelf
XBRL for Dummies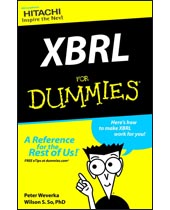 With the recent mandate by the Securities and Exchange Commission regarding the application of XBRL, knowing how to use this business reporting language is now a primary business imperative.
More Bookshelf > >


Rapid Data Extraction in the Field





MSAB, a leader in forensic technology for mobile examination and pioneer of XRY has announced the release of its Tablet technology, a ruggedized, portable digital forensics tool ideal for real time evidence gathering in the field.

Rights Structure as a Living Entity
Dean Wiech
Managing Director
Tools4ever

Many organizations are seeing that some degree of contamination creeps into the rights structure of their file system, possibly because of technical contamination resulting from changes in the server on which the system runs (switching from Novell to NT4 then to Windows 2003 and on to Windows 2008, etc.), or it could also be the result of changes in the organization when IT services are centralized or departments merge.

People in the News
Andrew Serwin Joins Board of National Cyber-Forensics and Training Alliance

Andrew Serwin
Global Privacy and Data Security Practice Group Partner
Morrison & Foerster
Morrison & Foerster Global Privacy and Data Security partner Andrew Serwin has been named to the board of directors of the National Cyber-Forensics and Training Alliance, a U.S.-based organization that works with government, private industry, academia, and law enforcement to study, counteract, and prevent cybercrime.

More People in the News > >

Roundtable


The need to track the actions of users inside a company has greatly increased the amount of data that entities must collect to ensure a complete view of all activity.


Jim Pflaging
President and CEO
SenSage
More Roundtables > >


Success Story
Banco Volkswagen Adopts SAS Credit Platform

SAS is Bank Volkswagen's new supplier for operations support solutions. Volkswagen Financial Services AG´s Brazilian subsidiary will adopt SAS Real-Time Decision Manager and SAS Enterprise GRC Support in an effort to improve credit policy enforcement, workflow analysis and credit disbursement.

More Success Stories > >