Editor's Bookshelf
XBRL for Dummies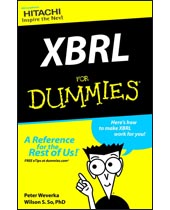 With the recent mandate by the Securities and Exchange Commission regarding the application of XBRL, knowing how to use this business reporting language is now a primary business imperative.
More Bookshelf > >


Digital Forensics Takes The Next Step
Glenn Hickok
President, U.S. Division
Micro Systemation





MSAB, the mobile leader in forensic technology for mobile examination and pioneer of XRY has announced the release of the latest version of its internationally recognized XRY platform.

Worn on the Sleeve
Andrew Serwin
Global Privacy and Data Security Practice Group Partner
Morrison & Foerster

Watches that monitor sleep quality. Skullcaps that gauge head injury. An infant bodysuit that sends temperature and breathing updates to a mobile device. . .

Roundtable


The need to track the actions of users inside a company has greatly increased the amount of data that entities must collect to ensure a complete view of all activity.


Jim Pflaging
President and CEO
SenSage
More Roundtables > >