People in The News


< Back
Compliance : Sarbanes Oxley : Technology : Risk Management
Tripwire Appoints Federico de-la-Mora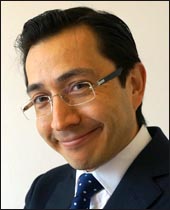 Federico de-la-Mora
Senior Director and Head of EMEA
Tripwire


Tripwire, Inc., a leading global provider of risk-based security and compliance management solutions, has announced that Federico de-la-Mora has been promoted to senior director and head of Tripwire's Europe Middle East and Africa (EMEA) business. In this role, de-la-Mora will be responsible for expanding Tripwire's customer base and partner ecosystem.
"Federico is a tremendous asset in our international sales expansion ," said Gus Malezis, vice president of worldwide sales for Tripwire. "He brings incredible drive and focus as well as an extensive track record in international sales and broad channel experience to this expanded role. His skills are exactly what we need to take advantage of the increasing market demand for our portfolio of cybersecurity solutions."
De-la-Mora has more than 15 years of international sales experience. He was director of EMEA sales for nCircle when it was acquired by Tripwire in April 2013. During this time, he was responsible for a 100 percent year-over-year increase in total sales. De-la-Mora also repositioned nCircle's EMEA channel into a two-tier distribution model. Prior to joining nCircle, de-la-Mora worked with a broad range of IT security experts and resellers in the new technologies department at a major retail bank.
"We have a tremendous business opportunity in Europe, the Middle East and Africa right now, especially with Tripwire IP360 and Tripwire Enterprise," said de-la- Mora. "We are committed to the partner model across EMEA and are working hard to provide our partners with the tools and resources they need to capitalise on our industry-leading technology. At our recent EMEA Partner Summit, Tripwire kicked off an aggressive program to maximize our collaboration with the channel, and we received tremendous feedback from resellers and distributors."
As part of the EMEA expansion, Tripwire has also appointed Sheena Petts as EMEA channel sales manager. Petts will play a leading role in the expanded channel program.
About Tripwire
Tripwire is a leading global provider of risk-based security and compliance management solutions, enabling enterprises, government agencies and service providers to effectively connect security to their business. Tripwire provides the broadest set of foundational security controls including security configuration management, vulnerability management, file integrity monitoring, log and event management. Tripwire solutions deliver unprecedented visibility, business context and security business intelligence allowing extended enterprises to protect sensitive data from breaches, vulnerabilities, and threats.