People in The News


< Back
Compliance : Foreign Corrupt Practices Act : Legal :
Former DOJ Official and FCPA Luminary Joins Mayer Brown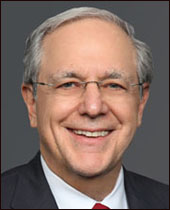 Laurence Urgenson
Partner, White Collar Defense & Compliance Group
Mayer Brown


Mayer Brown, a leading global law firm, has announced that Laurence Urgenson has joined the firm in Washington DC as a partner in its White Collar Defense & Compliance group.
Previously, he was a partner at Kirkland & Ellis. Mr. Urgenson focuses his practice on representing corporate and individual clients in all aspects of white collar criminal defense and related civil and administrative matters, including the Foreign Corrupt Practices Act (FCPA), environmental crimes, the False Claims Act, internal investigations and related federal and state proceedings.
"Larry is among the best known and most respected FCPA lawyers in the country and brings unparalleled experience to our already strong White Collar Defense & Compliance group that will greatly benefit our global network of clients," said Mayer Brown Chairman Paul Theiss.
Prior to joining private practice, Mr. Urgenson held key leadership positions at the US Department of Justice (DOJ). As the DOJ's Acting Deputy Assistant Attorney General, he primarily supervised the Fraud Section, General Litigation and Legal Advice Section, and Office of Policy and Management Analysis. Additionally, he testified before various congressional committees regarding the Department's white collar crime initiatives, including health care and telemarketing fraud, and served on the Executive Level Health Care Fraud Policy Group.
Mr. Urgenson also served as the DOJ's Chief of the Fraud Section for the Criminal Division, where he advised US Attorneys on white collar crime issues, supervised the prosecution of bank, securities, and defense procurement frauds, and oversaw the FCPA Unit and the Defense Procurement Fraud Unit.
Earlier in his career, Mr. Urgenson served as a Chief Assistant US Attorney for the Eastern District of New York. "Larry's experience will be a tremendous asset as we continue bolstering our global capabilities, handling FCPA matters and internal investigations on behalf of individuals and multinational companies," said Kelly Kramer, a co-leader of the firm's White Collar Defense & Compliance group. "As the DOJ and SEC's enforcement of the FCPA increases, companies need to ensure that anti-corruption compliance and due diligence remain a top priority, which is where Larry's counsel will prove invaluable."
Mr. Urgenson is the most recent former federal government official to join the firm's litigation practice. Matthew Rossi joined the firm's Securities Litigation & Enforcement group this month from the United States Securities and Exchange Commission's Enforcement Division, where he served as Assistant Chief Litigation Counsel and Senior Counsel.
In 2013, Marcus Christian, former AUSA for the Southern District of Florida, Michael Martinez, former AUSA for the District of New Jersey, and Greg Deis, former AUSA for the Northern District of Illinois, joined the firm's White Collar Defense & Compliance group. In addition to his prominent practice,
Mr. Urgenson is active in the legal community and has served on numerous professional committees. Additionally, he is a sought-after writer and speaker on white collar matters and is currently the chairman of the board of editors of the Business Crimes Bulletin. He also was recently named one of nine "FCPA Masters" at Main Justice's first annual Best FCPA Lawyers Client Service Awards.
"Mayer Brown has a well-earned reputation for outstanding lawyering and I'm excited about the opportunity to join a truly dedicated and highly regarded team of lawyers to help the firm's clients navigate the complex regulatory and compliance issues they face," Mr. Urgenson said. "I was particularly drawn to Mayer Brown's cross-border capabilities when it comes to FCPA and internal investigations. This type of work has become much more international and working at Mayer Brown will afford me the opportunity to leverage a wide platform, including Asia, Europe and Latin America."
Mayer Brown is a global legal services organization advising clients across the Americas, Asia and Europe. The firm serves many of the world's largest companies, including a significant proportion of the Fortune 100, FTSE 100, DAX and Hang Seng Index companies and more than half of the world's largest banks. We provide legal services in areas such as banking and finance; corporate and securities; litigation and dispute resolution; antitrust and competition; US Supreme Court and appellate matters; employment and benefits; environmental; financial services regulatory & enforcement; government and global trade; intellectual property; real estate; tax; restructuring, bankruptcy and insolvency; and wealth management.