People in The News


< Back
Compliance : Legal : Securities :
Former SEC Official Joins Mayer Brown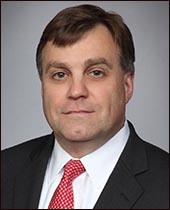 Matthew Rossi
Partner, Securities Litigation & Enforcement Group
Mayer Brown


Mayer Brown, a leading global law firm, announced that Matthew Rossi has joined the firm in Washington DC as a partner in its Securities Litigation & Enforcement group. Mr. Rossi joins from the United States Securities and Exchange Commission's (SEC) Enforcement Division, where he served as Assistant Chief Litigation Counsel. In this role, he primarily investigated and litigated violations of the federal securities law by investment advisors, hedge fund managers, broker-dealers, large financial institutions and others.
Mr. Rossi also served as Senior Counsel in the Enforcement Division's Asset Management Unit (AMU), a specialized unit within the Commission's Enforcement Division that investigates misconduct by investment advisers, private funds and registered investment companies.
Prior to joining the SEC, Mr. Rossi was a litigation partner at Akin Gump, where he led internal investigations spanning multiple countries, primarily concerning securities fraud and the Foreign Corrupt Practices Act. He also litigated cases in the federal courts.
"Matt is a highly regarded securities lawyer and litigator with a distinguished career in both government and private practice, and we are thrilled to have him join Mayer Brown," said Daniel Masur, partner-in-charge of Mayer Brown's Washington DC office.
"Mayer Brown's preeminent experience advising multinational corporate and financial services clients across a wide range of securities enforcement and compliance matters greatly complements my existing experience, and I look forward to working alongside the firm's talented team of lawyers," said Mr. Rossi.
During his tenure at the SEC, Mr. Rossi served as lead counsel for the Commission in enforcement actions against large investment advisers and related entities, including several high profile fraud and compliance investigations and litigations. He represented the Commission in numerous matters, including a major misrepresentation case against a hedge fund adviser managing over $1 billion, a high profile priority case arising from the financial crisis, and a case against a hedge fund manager for fraud and dissemination of false documents to investors. In addition, Mr. Rossi investigated cases involving insider trading, market manipulation and Regulation SHO violations, false investment adviser fee disclosures and unsuitable investment recommendations.
While at the SEC, Mr. Rossi worked primarily with the AMU. He advised its attorneys on completing investigations, evaluating potential charges and preparing cases for litigation against investment advisers and their affiliates. Notably, he investigated and litigated cases for the AMU and was instrumental in revising the SEC's examination procedures.
"Matt's extensive experience handling investment adviser cases will greatly complement both our securities defense and investment management practices," said Richard Rosenfeld, a co-leader of Mayer Brown's US Securities Litigation & Enforcement group. "His knowledge of the ever-changing regulatory landscape, especially pertaining to Dodd Frank, will be of tremendous value to existing and potential clients facing investigations and enforcement action by regulators."
Mr. Rossi earned a JD from Cornell Law School, an MA from University of Chicago and a BA from Le Moyne College.
Mayer Brown is a global legal services organization advising clients across the Americas, Asia and Europe. Our presence in the world's leading markets enables us to offer clients access to local market knowledge combined with global reach.
We are noted for our commitment to client service and our ability to assist clients with their most complex and demanding legal and business challenges worldwide. We serve many of the world's largest companies, including a significant proportion of the Fortune 100, FTSE 100, DAX and Hang Seng Index companies and more than half of the world's largest banks. We provide legal services in areas such as banking and finance; corporate and securities; litigation and dispute resolution; antitrust and competition; US Supreme Court and appellate matters; employment and benefits; environmental; financial services regulatory & enforcement; government and global trade; intellectual property; real estate; tax; restructuring, bankruptcy and insolvency; and wealth management.