People in The News


< Back
Compliance : Dodd Frank : Consumer Protection Bureau
Venable Adds CFPB Enforcement Attorney as Partner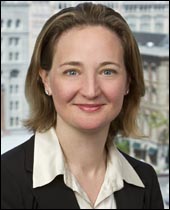 Allyson Baker
Partner in DC
Venable


Venable LLP has announced that Allyson Baker, who helped stand up the Consumer Financial Protection Bureau's Office of Enforcement and served as lead counsel on one of the agency's first enforcement actions, which also resulted in its largest settlement to date, has joined the firm as a partner in its Washington, DC office.

Ms. Baker arrives directly from the CFPB, where she was among the initial team of Enforcement attorneys who helped formulate agency policies regarding investigations and litigation in the aftermath of the financial crisis.

Prior to joining the CFPB in 2011, Ms. Baker served as a Trial Attorney in the Department of Justice's Civil Tax Division, where she was the recipient of the Outstanding Attorney Award on three separate occasions.

At the Department of Justice, Ms. Baker served as lead trial counsel in several noteworthy cases, including:

U.S. v. Stover in which the government obtained an injunction against a promoter of fraudulent tax structures involving retirement plans and pass-through entities; the estimated tax harm was equal to hundreds of millions of dollars.

U.S. v. Davison in which the government obtained an injunction against a promoter of fraudulent tax structures involving retirement plans, pass-through entities, and farm-related tax deductions; the estimated tax harm was $200 million dollars.

Community First Credit Union v. U.S., a test case in which the government defended an IRS determination regarding unrelated business income tax.
"Allyson brings an outstanding combination of experience in prosecution, financial investigation and trial work, working in the most forceful areas of government enforcement at the DOJ's Civil Tax Division and more recently the CFPB," said Venable Litigation Division Chair Geoffrey Garinther. "Being present at the creation of the CFPB and handling one of its biggest enforcement matters to date has given her a unique perspective. Allyson figures to be an invaluable addition to our litigation and enforcement groups, especially assisting financial services clients facing their most sensitive and complex matters."

Venable's Litigation group includes a number of former federal prosecutors as well as former senior enforcement attorneys with the Securities and Exchange Commission. Venable also has multiple, long-established practices focused on the intersection of consumer protection and government regulation of financial services, which make up its CFPB Task Force. Venable's decades of experience encompass banking and financial services regulation, advertising and marketing law, privacy and data security, class action defense, legislative and government affairs, and defending clients faced with investigations and enforcement actions before the federal banking agencies, the Federal Trade Commission, state Attorneys General, state financial services regulators, and now the CFPB.

"In its short history, the CFPB has shown itself to be an extremely active agency. From the start, financial services providers – banks and nonbanks – have seen that the CFPB plays a critical role in enforcing federal consumer financial laws and regulating how credit card issuers, mortgage lenders, and other consumer financial services providers conduct themselves with consumers," Ms. Baker said.

"Being part of the CFPB's formation and implementation was an exhilarating, once-in-a-career experience," she added. "In looking to apply my background to a private practice setting, I was looking for a firm that understood the dimensions and value of my trial experience and enforcement credentials, particularly in the consumer financial services arena, and also really understood the CFPB. With its strong and diverse team of litigators, former financial services industry regulators, and advertising and consumer protection attorneys, Venable really fit the bill. The firm also has a great group of banking and tax controversy attorneys and really knows the landscape for government enforcement. I look forward to working with Venable clients."

Ms. Baker earned her J.D. from New York University School of Law (2000) and her B.A. from Columbia University (1995).

Venable's CFPB Task Force, is headed by Jonathan Pompan and Suzanne Garwood, who represent a number of consumer financial institutions in a variety of matters before the CFPB, and are joined by several strong practitioners in the fields of consumer financial services, advertising and marketing law, privacy and data security, and government investigations and enforcement. Venable has one of the country's leading financial services practices and boasts a number of lawyers with significant experience gained at major enforcement and regulatory agencies.

The group includes Ronald Glancz, a former Assistant General Counsel and Acting Deputy General Counsel of the FDIC and former director of the litigation division of the Office of the Comptroller of the Currency; Ralph Sharpe, a Director of Enforcement and Compliance at the OCC; John Beaty, former Assistant General Counsel at the Federal Deposit Insurance Corporation and head of the Resolution Trust Corporation's Professional Liability Section; William Donovan, former General Counsel of the National Association of Federal Credit Unions; and John Bowman, former Acting Director of the Office of Thrift Supervision. In addition, they are joined by leading advertising and privacy attorneys, including Jeff Knowles; Randy Shaheen; Amy Mudge; Melissa Steinman; Stu Ingis; and Len Gordon, the former Northeast Regional Director at the FTC.

Venable will co-sponsor a day-long conference entitled "Understanding the Consumer Financial Protection Bureau" at the Law & Economics Center at George Mason University School of Law on May 2, 2013. Ronald Glancz, Ralph Sharpe, Allyson Baker and Jonathan Pompan will participate as speakers and moderators.